1. Why LED?
Very simply put, LED lights provided they are designed and specified right, will last longer than any other light source, use a minimal amount of power, have much less heat exposure and withstand the rigors of spiking electronics, humidity, water ingress and vibration on a boat. Bulbs use huge amount of power, are fragile and don't last long in a marine environment.
2. Who is OceanLED?
OceanLED is by far the most popular and most widely distributed marine lighting in the world. The company has a highly skilled team pushing the technological boundaries of LED lighting and the electronics to run them, with all products being designed and produced in-house.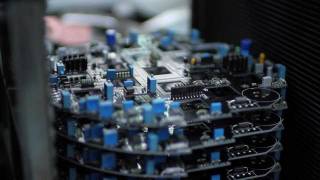 OceanLED Circuit Board Assembly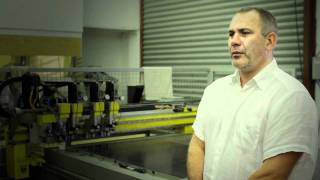 OceanLED Lens Manufacture
3. How many lights and what size/series should I get?
It all depends on size of your vessel and desired final lighting effect.
Check out our new 'How to Light Your Boat' video series to learn more about product selection, mounting suggestions, color options and more.
Download our 'Which Series is Right for Your Boat' for recommendations.
Or go to our 'Applications' section to learn more about individual lighting setups. This is one example application, there are several to choose from.
4. Who has the brightest lights?
This is like asking who makes the fastest car - i.e. it's not always about brightness. The real question comes down to design, technology and size. OceanLED lights are brighter than most products available; those that seem brighter tend to be to the detriment to longevity and safety.
OceanLED lights are designed to use less power, maintain much longer life spans and with far better colour retention and clarity.
5. Should I buy the brightest light available?
Think of it like this - What works best? – One 1000 watt speaker under your TV; or 6 individual speakers around the room? Surround sound is the answer to clever sound and clever lighting design can be done by using more individual lights; it's like surround lighting!
6. Can I run with my underwater lights on?
Absolutely, LEDs are a solid state light source, and therefore are vibration proof. All lights are fitted with thermal cut out protection, so if the light does overheat it will turn itself off as a precaution when the temperature allows it will turn back on. Running with traditional lights will put the bulbs at risk.
7. What is the most popular colour?
For underwater, blue is by far the most popular. 
8. What is the best colour for underwater?
Blue and green light have shorter wavelengths than white light, and can penetrate through the water more efficiently making them look brighter. The human eye is more sensitive to blue and greens also which helps to make the lights look brighter.
However, if you do your boating in crystal clear waters we recommend White, as this simply enhances the natural beauty. OceanLED white LEDs are whiter than any other underwater light on the market so when you want a white light, you do truly get a white light as opposed to the 'yellow' variety.
All blue are great for slightly murkier waters such as the Florida coastline or the Mediterranean.
Green which is great for attracting fish is the best colour for penetration in fresh water. If you do your boating in intercostal waterways or very bad visibility areas, green helps make the water look cleaner but is not always the most aesthetically pleasing.
9. How do I clean my lenses?
All OceanLED lights except the T-Series are treated with the Unique Tritonium coating. This basically forms a non stick layer making it virtually impossible for barnacles and so on to stick to the lens. If you find they do, however, it is very easy to clean them off. If in the water a soft bristle brush should do the trick, and if the boat is out of the water then make sure the lens is soaked with water and then using an ice scraper or something similar it is very easy to bring it back to new again as shown in the video here.
The T-Series do not have Tritonium protection instead they are supplied with lens protection tear off strips that can be removed and re-applied as and when needed.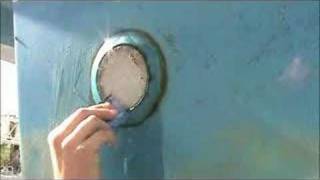 Tritonium Lens Cleaning
10. What is the light beam length? How far will the lights project underwater?
There are a number of factors regulating how far the lights will shine out, #1 being how big/bright the light is? #2 What colour are you using? #3 How clean is the water?
In dirty water we have seen light reach as little as 3' / 1 meter but in perfect conditions the same lights reach out beyond 100' / 30 meters. In the picture the largest boat is 70', therefore the lights being shown reach out way beyond 100'.
11. How do I change a bulb?
You don't. LEDs are light emitting diodes which are electronic components. They are not traditional light bulbs.
12. What happens if the lights over heat?
All OceanLED lights are thermal protected and will dim or turn off when above normal temperature is reached. Once the unit has cooled down the light will turn back on.
13. How hot do the Lights get?
The running temperature of any light from OceanLED is designed to run within 40 - 60 degrees centigrade (104 - 140 degrees Fahrenheit) depending on the which size of light and the ambient conditions.
Example of a competitor's bulb underwater light without thermal protection, severely damaging a fiberglass/grp hull.
14. Are the electronics reverse polarity protected?
Yes, all lights have reverse polarity protection. Red is always positive, black is always negative. 
15. How long do OceanLED lights last?
OceanLED lights are rated for up to 40,000+ hours.
16. What voltage do the OceanLED fixtures run on?
Amphibian 3 - 12vDC
Amphibian 6/12 - 12/24vDC
2010 HD - 12/24vDC (optional vAC upgrade)
3010 HD - 12/24vDC (optional vAC upgrade)
COLOURS HD - 110/220 vAC
EYES Camera - 12vDC
17. What is Tritonium Optical Technologies?
Tritonium Optical Technologies is a small research laboratory located in England specialising in optical systems mainly for the Military and the Aerospace industries. 12 months of research and development between OceanLED and Tritonium has resulted in a world beating optical lensing system, not only for underwater lighting, but for lighting in general.
18. Why should I buy LED vs. HID/Halogen?
Some conventional lights are cheaper, but by the time you have replaced a few Xenon or HID bulbs, and one or two ballasts, conventional lights can turn out to be a lot more expensive than OceanLED lights. Typical life expectancy of bulbs are as follows: Halogen = approx. 500 - 1000 hours, Xenon = approx. 1000 - 3000 hours, HID = approx. 3000 - 5000 hours, OceanLED = approx. 40,000 hours. The longest life of a Xenon or HID lamp can only achieved when left on for more than 10 hours at a time in a cool environment. The more they are used for shorter periods, the less time they will last. On average, Xenon and HID will have lost 50% of their light output by the time they have reached their half life. If there are Xenon or HID lights on a boat and one bulb blows, all bulbs will need to be changed in every light to maintain a matching colour temperature and brightness.
19. Why do so many HID lamps fail well before their rated life?
Some facts taken from a Xenon and HID bulb manufacturer. According to Osram (www.osram.co.uk), H.I.D lamps need to be run for at least 10 hours at a time to reach their estimated lamp life. The more times they are switched on and off, the shorter the lamp life. In addition, if the bulb is turned on less than 15 minutes from switch off, its life is yet again shortened. If the light is only used for: 5 hours at a time then the bulb life is shortened by 25%. 2.5 hours at a time then the bulb life is shortened by 45%. 1.25 hours at a time then the bulb life is shortened by 60%! This last figure would give an H.I.D lamp life of only 2400 hours. By half the bulb's life, the H.I.D lamp (and Xenon technology) has lost half its light output. OceanLED lights can be turned on and off for any length of time with no harm to any part of the light, there is no cool down period, and no reduction of life expectancy.
20. Does switching on and off OceanLED lights shorten the LED life?
No, you can turn the lights on and off a million times an hour with absolutely no effect on the LEDs. 
21. What is the light output of OceanLED lights?
Please refer the Which Series document for all the details of Fixture Lumen output of the various OceanLED lights.
Download our 'Which Series is Right for Your Boat' for recommendations.
22. Can I extend the cabling between the light and the driver on the Pro Series model?
Yes, we have extension cables available in 2 and 6 meter lengths. It is possible to centrally locate all electronic drivers in one location and run off to the lights up to 500 meters away! For custom installations we provide cabling on a drum which can be laid and custom lengths can then be terminated. We also offer a Driver Cabinet which centrally locates all electronic drivers in one location for Super Yachts, and we also now offer a custom made Junction box allowing 1 feed to power up to 4 separate lights, reducing installation times.
23. Does the installation kit include a fuse?
Yes, All OceanLED lights include inline fuse kits which are recommended to be installed with every light.
24. How easy is the installation?
Please refer to the installation videos for tips on installing OceanLED lights.
25. What is the recommended installation depth for underwater lights?
Under ideal circumstances OceanLED would recommend the following installation depth to achieve the best lighting effect: - 200-250mm (8-10") to the top of the fixture. However provided the product is underwater during normal operation the effects can still be good.
26. Should the underwater lights be bottom painted with anti – foul paint? And should I bond them?
Yes, it is highly recommended to anti-foul the entire bronze flange of the light that is exposed to the water. All OceanLED lights are now supplied with a Lens Masking Disc to help prevent anti-fouling paint sticking to the lens whilst painting - this innovation was developed from customers feedback. All metal parts on the exterior of a hull should be connected to the vessels cathodic protection system. A bonding point is available on every model. The new X-520 however is made from polyacetal which does not require antifouling or bonding.
27. Why do you use Aluminium Bronze for the housing on some of the underwater lights?
Props and propellers are made from the same material for a very good reason -€" it is one of the most robust metals underwater. Stainless Steel is very good out of the water as its top layer oxidizes.  However underwater this does not occur and therefore it will corrode. Aluminium Bronze is expensive, but has great resilience to salt water corrosion as well as having great thermal characteristics to help keep the light and LEDs cool.
28. What is the OceanLED warranty statement?
29. Where can I purchase the lights?
Check our Dealer Locator on this site for a dealer in your area. We are currently expanding worldwide to be able to offer a next day service globally.
30. I have a metal hull but don't want to use a weld-in model. What can I use?
Both the Thru Hull and Flush Mount models are available with delrin isolating sleeves to separate the dissimilar metals. See our accessories page for further details.
31. Are the AC units brighter?
No, an LED driver maintains a constant power to the LEDs, the input voltage makes no difference.
32. Are the T-Series Models for trailers or boats?
The T-Series models are designed for boats that are not kept in the water for more than 2 weeks. 
33. How does the T12 dual color model work?
The T12 dual color has 12 LED's. 6 of the LEDs light up at one time with the specified color, ie Blue/Green 6 LEDs will be designated for the blue color and 6 LEDs will be designated for the green color. You will need a three way switch to operate this model.
34. Do you still sell a drain plug light?
No, This product is no longer available.
35. Does OceanLED offer an extended warranty?
No, We no longer offer an extended warranty. 
36. Do all your lights require an external driver?
No, The Amphibian and Hybrid models have internal drivers. THe Pro Series HD models require an external driver which is included with the light.
37. Are OceanLED lights sold in pairs?
All of our products are sold seperately. However all of the components such as drivers, cables, and fuses are included with each light purchase.
38. Can any OceanLED lights be used above the water?
The only models that we recommend for above and below the water use are the Amphibian T-Series.
39. Can I mount lights on the side or bottom of my boat?
You can mount the lights in just about any location on your boat. We recommend using the Pro Series HD Flush Mount or Xchangeable Flush Mount for the side and bottom of the boat. The other models have a profile that is too large and will cause drag when running the boat.
40. Do I have to drill a hole in my hull to install OceanLED lights?
All OceanLED lights require you to drill a hole in the hull, the hole sizes range from 3/8" - 41/2".
41. How do I wire my OceanLED lights?
All of our products come with a detailed instruction manual. These manuals cover the wiring installation of the lights.
42. Where can I buy the Amphibian 1 series light?
OceanLED apologizes, this light is not currently in production and we do not expect it to be produced in the near future.
43. What kind of switch should I buy?
Most OceanLED products will work with a basic 2 way switch that can be purchased at your local marine dealer. In some cases you might already have a 2 way switch that is open/empty on your console that you can use with out purchasing a new one. OceanLED always recommends that you consult a professional marine installer when you are installing your underwater lights.
44. Which beam angle should I choose for my Pro Series HD lights?
The Narrow beam angle is for a more precise glow of light coming from the fixture.
The Wide beam is for a halo or cosistant glow of light around the boat.
The Choice is yours depending on the look you want your boat to have.
45. Can I install my Amphibian lights on the trim tabs of my boat?
OceanLED does not recommend the install of our lights on the trim tabs of your vessel. 
Not here?
If you can't find the answer to your question here, why not ask our experts? We may add your question to our list of FAQs.